纺织品抗真菌活性测定 第1部分 荧光法
时间:2018-12-11 18:12:52 来源:CIAA 点击量:
---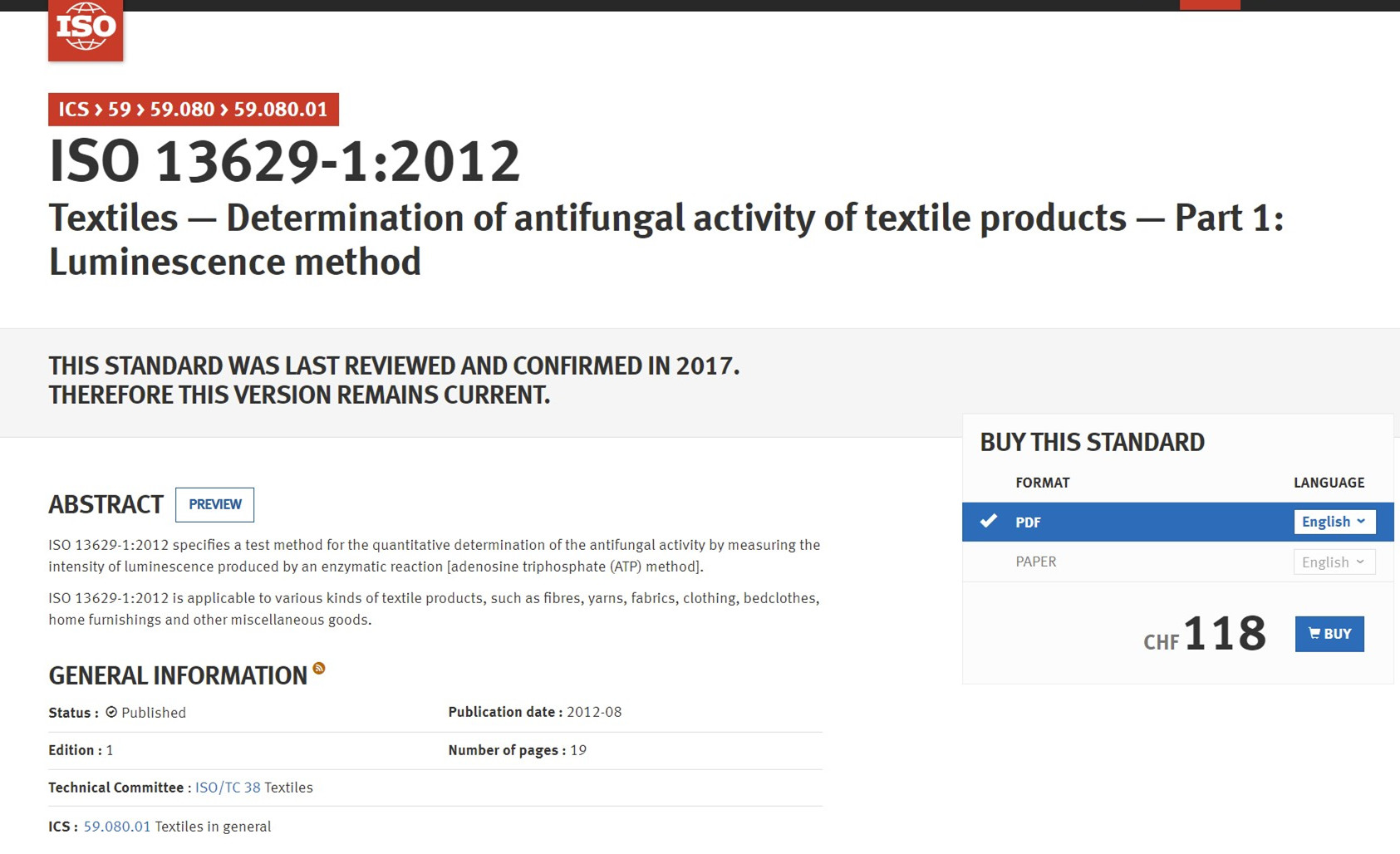 ISO 13629-1:2012
Textiles -- Determination of antifungal activity of textile products -- Part 1: Luminescence method
Introduction
Speciality products of antimicrobial-treated textiles have been increasing year by year in various applications and they certainly contribute to the prevention of a material's deterioration and to the improvement of the environment and quality of life.
For these reasons, ISO/TC 38/WG 23 developed ISO 20743 in 2007, and is continuing to study a test method on the antifungal activity of textile products for a series of International Standards.
This part of ISO 13629 adopts an ATP luminescence method as a basis for the quantitative determination of antifungal activity.
Characteristics of the luminescence method are as follows:
— extremely small margin of error compared to the colony count method;
— elimination of the culturing time for colony formation, enabling a shorter testing time;
— simplification of testing operation.
The other parts will be developed relating to:
— Part 2: Plate count method.

1 Scope
This part of ISO 13629 specifies a test method for the quantitative determination of the antifungal activity by measuring the intensity of luminescence produced by an enzymatic reaction [adenosine triphosphate (ATP) method].
The part of ISO 13629 is applicable to various kinds of textile products, such as fibres, yarns, fabrics, clothing, bedclothes, home furnishings and other miscellaneous goods.
Based on the intended application and on the environment in which the textile product is to be used, the user can select the most suitable evaluation method from the following methods before enumeration by the ATP method:
a) absorption method (an evaluation method in which test fungi suspension is inoculated directly onto the specimens);
b) transfer method (an evaluation method in which test fungi are placed on an agar plate and printed onto the specimens).

2 Normative reference
The following referenced documents are indispensable for the application of this document. For dated references, only the edition cited applies. For undated references, the latest edition of the referenced document (including any amendments) applies.
ISO 105-F02, Textiles — Tests for colour fastness —Part F02: Specification for cotton and viscose adjacent fabrics

3 Terms and definitions
For the purposes of this document, the following terms and definitions apply.

3.1 control specimen
specimen used to validate the growth condition of test fungus
Note 1 to entry: The control specimen may be taken from the same textile products as the textile products to be tested, but without antifungal treatment. If this is not available, a 100 % cotton specimen without fluorescent brighteners or other finish, complying with the requirements of ISO 105-F02, is used as the control specimen, after 10 cycles of washing for 10 min at a temperature of 60 °C without detergents or any brighteners and rinsing twice for 5 min in accordance with ISO 6330.

3.2 antifungal agent
agent to prevent or mitigate the growth of fungus or to reduce the number of fungus

3.3 antifungal treatment
treatment to prevent or mitigate the growth of fungus or to reduce the number of fungus

3.4 spore suspension
liquid with evenly dispersed fungal spores in sterilized water containing an anionic surfactant (8.3)

3.5 ATP
adenosine triphosphate, a multifunctional nucleotide present in living fungi

3.6 antifungal activity
activity to prevent or mitigate the growth of fungus, expressed as the difference of growth value in logarithm of ATP between the control and test specimen

3.7 luminescence method
method in which the amount of ATP contained in fungal cells is measured in moles of ATP
CIAA会员单位免费下载